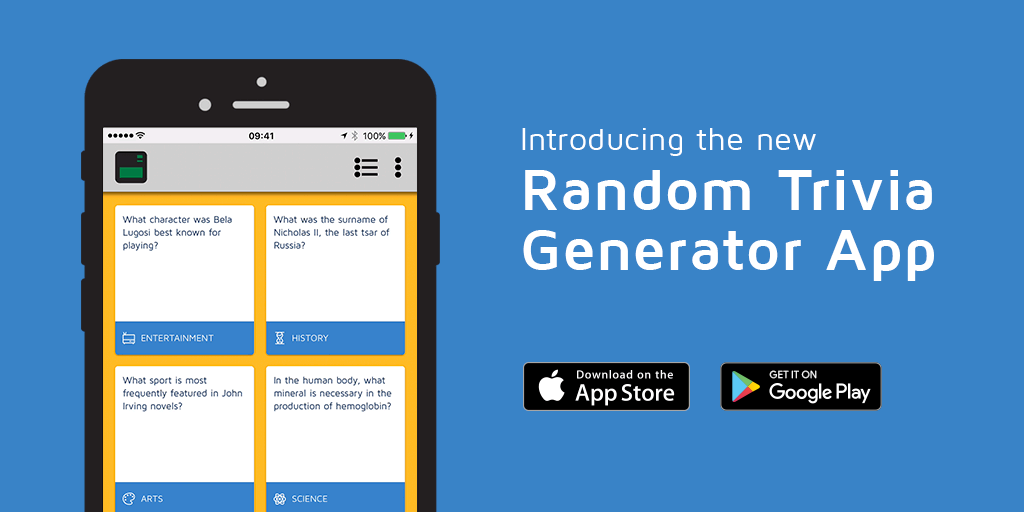 Introducing the New Random Trivia Generator App
In 2016 we worked hard to rebrand Random Trivia Generator, inject some color into the site, and bring it into the 21st Century. One of the goals of the rebrand was to make the site more accessible and usable across multiple platforms.
Without further ado, we would like to introduce the new Random Trivia Generator app, now available in the App Store and Google Play!
New Design, New Functionality!
The new app was designed to look and feel much like the desktop and mobile versions of the site, with infinite scrolling to keep you entertained for hours with over 17,000 trivia questions (with tons more coming).
This first update in over 3 years includes some user-requested features like:
Card and List view – ability to toggle between card view or list view to quickly scan through trivia.
Tap to reveal – in card view the answer is hidden until you tap on the question card.
Randomly generated quizzes – unlike the current, fixed-length random trivia quiz, you are able to select the number of rounds and questions.
User-submitted questions – additional functionality to submit single, or multiple questions to our database.
Category-specific views – scroll through all questions in a specific category
In 2017, we will be working to bring other user-requested features, tons more trivia questions, and improve the general usability of the site and database, so you can focus on entertaining your friends, family and guests, while we take care of the rest.
Enjoy the new Random Trivia Generator app and stay tuned for all the new features we are working on.